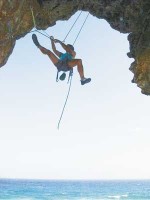 Cayman Net News Online has an article about rock climbing the limestone cliffs of Cayman Brac.

In November of 2000, a small team of people blitzed the island with new titanium bolts, developed specifically for marine environments. These should provide safe climbing for decades to come.

John Byrnes, who is part owner of Bluff View House, a small guest cottage for rock climbers on the south east coast of Cayman Brac, said there are 46 re-bolted routes of every grade at 7 areas.

Some of the routes are now avoided because they are too close to Booby Bird nesting areas. However, Mr Byrnes claims there are about 20 more routes that could be re-bolted, and plenty of new routes that could be developed.