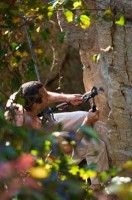 The Access Fund reports that Castle Rock, Tennessee is now open for climbing. Located near Chattanooga, Tennessee, Castle Rock has both sport and trad routes. Full info can be found here.

From Brad McLeod of the Southeastern Climbers Coalition,
After a year of negotiations with local landowners, the cliff at Castle Rock (TN) is now open for climbing. Castle Rock is located near Chattanooga, Tennessee, and is approximately 1/2 mile long of 80 to 120 ft. tall bullet sandstone with over 50 sport and traditional routes.

The Southeastern Climbers Coalition began work in the fall of 2004 with SCC reps Kirk Brode and Brad McLeod meeting and negotiating with two private landowners. A deal was eventually worked out with the cliff line and hiking access to be leased for $1500 per year. Final papers were being signed during the last week in December 2005.

Castle Rock is known for its quality 5.11 and 5.12 sport climbs and one of the hardest routes in the state of Tennessee – Apes on Acid (5.13d). Early climbing route developers such as Jeff Gruenburg, Jerry Roberts, Chris Chestnutt, Mark Cole and Ron Davis spent considerable time at this crag as it was one of the first areas in the deep south to embrace sport (and mixed gear) climbing in the late 1980â??s. Castle Rock is listed as a 4 star (out of 5) crag in Tim Toulaâ??s Rock and Road guidebook.

The Castle Rock lease adds to a growing list of closed climbing areas that are now re-opened in the deep south. In addition to the lease at Castle Rock and a permit system at Little Rock City, The SCC currently owns and manages three cliff areas (Boat Rock (GA), Kings Bluff (TN), and Jamestown (AL).

The SCC would like to thank the many donors and volunteers that have worked to make this project a reality. In particular, we would like to thank the Access Fund www.accessfund.org and Shawn Tierney for their continued support and logistics to help open this cliff.

More information (directions and updated access info) are found at: Castle Rock Area Report.

The SCC Area Reps and Property Managers for Castle Rock are Steve Deweese prowindow@mindspring.com and Jerry Roberts jerryclimber@hotmail.com. If you have any comments on Castle Rock such as reporting trail day work ideas, anchor repair, fundraiser ideas or anything else, shoot us an email!

The cliff line is open but we ask that climbers be patient and allow the SCC time to continue finish the trail to the crag and repair anchors. There will be several upcoming work/climb days to check out the crag. If you are interested in seeing Castle Rock email Brad McLeod at mbmcleod@mindspring.com. A schedule of work/climb days will be listed on the message board.

The crag is currently open only to SCC members since Castle Rock is located on private land and is not owned by the SCC. The long term goal is to purchase the cliff line at Castle Rock and allow open access. Until that point, we are respectfully asking climbers to renew their memberships to climb (just like a hunting club leases land). If you would like to purchase a car decal to show your support for Castle Rock (($10) you can obtain one from Dave Pollard or Brad McLeod mbmcleod@mindspring.comby email.