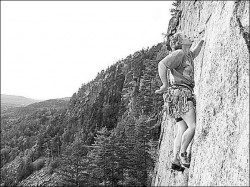 CanadaEast.com reports that climbers are being denied access to the granite cliffs of Cochrane Lane after the Gagetown military base posted no trespassing signs this spring. The Cochrane Lane cliffs located in the valley above the Nerepis River in Welsford has over 300 documented climbing routes.

The spot is a busy playground for thousands of climbers every year and has been featured in national and international magazines and the Canadian Alpine Journal.

For nearly 30 years, members of the University of New Brunswick rock and ice-climbing club have climbed there with the understanding that they had permission.

Cochrane Lane cliffs have been used year round since the first documented ascent in 1976. Routes bear names like Joe's Garage, Gollum's Cave and Minkey Wall; during the summer they are the home-away-from-home to many dedicated climbers. They cling to the cliffs, their hands wedged into small cracks; their colourful ropes dangle behind them as their partners yell out encouragement and helpful tips. During the winter ice-climbers chip away at frozen waterfalls that cascade down the walls.