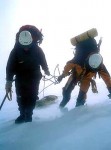 The Los Angeles Times has an article about two Rainier Mountaineering guides, Chris Bamer and Rob Montague, and their attempt on the Ptarmigan Ridge route.
The article also has some great background info on climbing Mt. Rainier.
For many American mountaineers, the road to the toughest climbs in the world goes through Mt. Rainier, considered the premier technical ice climb in the Lower 48. As climbing season dawns this spring, the tricky conditions and the popularity of the climb — almost 10,000 people take on Mt. Rainier each year — mean the mountain will be a busy place for Mike Gauthier, 35, head climbing ranger at Mt. Rainier National Park.